Triple Gold Slots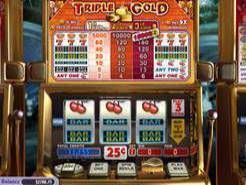 Play Now
Triple Gold Slots is as small as a slot game can ever get really but nonetheless that doesn't stop it from delivering big prizes and a diverse enough gameplay so that players of all preferences can enjoy it provided they are happy with a classically set up, modest 3 reels, 1 payline game. The background of the reels is orange-yellowish with two beautiful drawing s of trees at the two bottom corners, a red game title with golden outline and three pieces of gold in between the words. The maximum number of credits with which the player can enter the spin is 3, coin sizes vary between 1 cent and 10 dollars.
Triple Gold Paytable
There are just six symbols included in the paytable of the slot game. Each of these symbols has combinations for the cases of one, two and three bet credits. The symbol that is situated at the bottom of the paytable is the cherry. A single cherry on the active payline will pay 2 coins per a bet credit. Two cherries on the payline will deliver 5 coins per a bet coin. The same payout can be provided by a combination of any three of the BAR symbols. Three cherries will pay 10 coins, 20 coins and 30 coins for 1, 2 and 3 bet credits respectively. 10 coins per a bet credit will also be paid by three of the single blue BAR symbols. 20 coins per a bet credit will be delivered by the double yellow BAR-s. Three of the triple red BAR-s will deliver 40, 80 and 120 coins for 1, 2 and 3 bet credits. The Red Seven symbol also makes an appearance in the game and the combination of three of its symbol pays 60 coins for a single bet credit. The title Triple Gold symbol works as the wild of the game. It is capable of substituting the rest of the symbols in the game in order to complete winning combinations and when it puts its effect to good use, the earning of the wild-assisted combination will be multiplied by three. Two of the wild symbols in a winning combination will increase the eventual earnings 9 times. Otherwise, the wild is the highest paying symbol of the gamer and it delivers the biggest rewards by a long shot when three of it appear on the active payline. In the case of a single credit bet, the three wilds pay 5000 coins. When it comes down to a two-coin bet, the payout is 10 000 coins and in the case of three bet coins, the jackpot top prize of the game will be awarded and that is 15 000 coins. Triple Gold Slots is just a normal slot game with a classic set up that will surprise its players with the unusually big amount of its top prizes, which should rightfully put it significantly higher up on the list of best classical slots.